GARMIN TOPO Australia NZ
Topographical Mapping (SD/MicroSD Card)

Provides topographic terrain contours at 20 m (65 ft) intervals, approximating 1:100K maps for Australia and 1:50K maps for New Zealand, plus summit points for detailed lay of the land.
Shows land cover and complete coverage of Department of Conservation huts, camps and tracks for New Zealand, as well as LINZ 50K map sheet names and boundaries for New Zealand.
Contains tracks, outback trails, 4WD destinations and hydrographic features, including lake/river shorelines and perennial and seasonal streams.
Includes famous outback routes, such as Birdsville, Strezelecki, Oodnadatta, Canning Stock and more.
Features updated and new searchable points of interests in urban, rural and outback areas, including lodging, restaurants, camping locations, homesteads, caravan parks, shopping and more.
Includes updated routable road content, by NAVTEQ, to give you turn-by-turn directions to your destination. Additional updated content provided by HEMA and LINZ.
Provides elevation profile on compatible devices so you can estimate terrain difficulty.
Displays national, state and local parks, forests and reserve areas.
(DVD only) Includes BaseCamp™ software for managing data on your GPS and computer, playing back routes and tracks, geotagging photos and more.
Requirements
To view and use the maps on this card, you must have a Garmin device with a microSD or SD card slot. Maps on microSD/SD cards cannot be copied or viewed on a computer (recycled microSD cards may be used to program map data).
Reduced price map updates are not available for these cards. If you want to update the maps, you must purchase a new card that includes the latest map data.
The microSD/SD card package includes a microSD card and an SD card adapter.
Coverage
Features digital topographic and street maps for all of Australia and New Zealand. Also includes expanded coverage for several New Zealand islands, including Antipodes, Auckland, Bounty, Campbell, Kermadec, Chatham and Snares.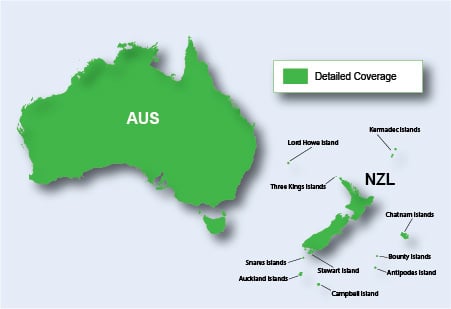 Compatible Devices
 aera® 500
 aera® 510
 aera® 550
 aera® 560
 aera® 795
 aera® 796
 Colorado® 300
 Colorado® 400c
 Dakota® 20
 Edge® 705
 Edge® 800
 Edge® 810
 eTrex Legend® HCx
 eTrex® 20
 eTrex® 30
 GPSMAP® 60CSx
 GPSMAP® 60Cx
 GPSMAP® 620
 GPSMAP® 62s
 GPSMAP® 62sc
 GPSMAP® 76CSx
 GPSMAP® 76Cx
 GPSMAP® 78
 GPSMAP® 78s
 GPSMAP® 78sc
 Montana® 650t
 nüLink!® 1690 LIVE
 nüvi® 1250
 nüvi® 1260
 nüvi® 1350
 nüvi® 1390
 nüvi® 1390T
 nüvi® 1450T
 nüvi® 1490T
 nüvi® 2250
 nüvi® 2350
 nüvi® 2360LT
 nüvi® 2460LT
 nüvi® 255
 nüvi® 255W
 nüvi® 265T
 nüvi® 265W
 nüvi® 265WT
 nüvi® 30
 nüvi® 3750
 nüvi® 3760
 nüvi® 3790T
 nüvi® 40
 nüvi® 465T
 nüvi® 50
 nüvi® 5000
 nüvi® 760
 nüvi® 765
 Oregon® 200
 Oregon® 300
 Oregon® 400c
 Oregon® 400t
 Oregon® 450
 Oregon® 450t
 Oregon® 550
 Rino® 650
 StreetPilot® c510
 zumo® 660